Breeding Quality Jack Russell Terriers for Show,Export & Pets.
Baronmoore was originally the prefix for our Dalmatians. Finally in 1997 our prefix "JACKNTHEBOX" for the Jack Russells was excepted. And now all our Jack Russells Terriers will now be registered as "Jacknthebox".
Photo of Abby with my two children.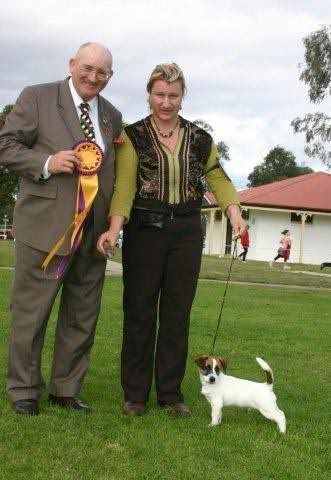 Jack Russells are great little dogs with big hearts and have stolen mine. They fit in well with the family. We are located near Wauchope, (Mortons Creek). We often show our dogs and do tremedously well. This is a photo of me with Baronmoore Burn The Floor, "Tango" at his first show. We won Best Baby Puppy in Show!
I am an accredited Micro-chip implanter & have Chipped now over 250+ Horses, 900+ Dogs, 150+ Cats, Several Birds, Snakes & other reptiles. I will travel to your home within the Hastings Region for a small fee or you can travel to me. Ph - 0407942852 for an appointment.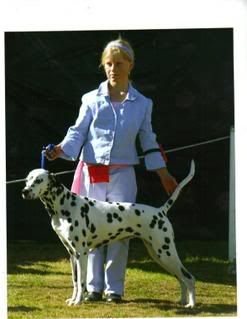 My Daughter Nickaela, having a go at Junior Handlers with a friend's Dalmatian.
Nickaela also has a very Busy life with Horses.
Riding since the age of 3yrs she has always had one thing in mind. And that was to jump her ponies over anything that she could find! Starting on a little 9.1hh Shetland Pony name "Ruby" - Redacres Rebecca. At age 5 she moved up onto an 11.2hh Pony Called "Dime" - Nawarrah Park Valantine. He only lasted her one year, as he would NOT jump over 80cm. So for her 6th Birthday we bought the Best Pony In the World, "Splash" - He's Some Boy. And that he was! He was only 12.3hh, but he won at State Level and they won so much stuff together, it's too long to List. He did a 6bar jumping 146cm. Which is amazing for his height! But he was so talented he could win in Show Hacking. And Dressage! It's been very Sad to say good-bye to Splash, but he's gone back up to Queensland after us having him for 5yrs. I'm sure the Coggan Family, will adore him as we did.
We have recently (September 2008) purchased from N.Z. a 14.1hh Pony named Popeye - "Mr Riff Raff". He was Nickaela 11th Birthday present surprise! And surprised she was. As my sister also bought her Horse from N.Z. over as well. So she got 2 Horses on the same day. This is part of the reason we have not shown the Dogs for the Past few months. And with the Show Jumping in full swing again, she is about to compete on Popeye in January. We Thank Jenika Cowan in N.Z. for selling us Popeye and we will keep her informed on there Progress together. As they did extremely well, and she has now moved onto Large Horses.
Above - Jenika Cowan riding "Mr Riff Raff" aka Popeye.
This is Nickaela's 2nd Horse to compete on, starting in the year 2010.
She is adapting to him well, and it wont be long and she will be out & about on him. Red is so very spoilt, and loves his sprinkler on the HOT days! :-)
There 1st Interschool together.
2011 winners at Wagga Wagga. Overall Junior Champion. (Nickaela is 13yrs)
Winners of Juniors at Camden Show 2011.
2011 Winners of FEI Gold Tour 1.20m. It poured down!!!
Winners of Round 1. Juniors at NSW State SJ Champs (Oct 2011). (below)
Our New addition - Spyder with her foal "Cooper"
Cooper born 27/11/10.
2 mths old
8 months old (1m fence)